Food grade TPU covers for timing belts
Featured Product from Habasit America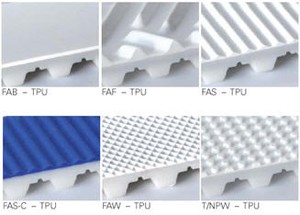 Our FDA covers offer good resistance to oils and fats and are easy to clean. They also provide extra grab and security in conveying applications. With HabaSYNC® FDA covered timing belts, you get the same features you've come to know from our traditional flat belts; however you get the additional benefit of synchronization. Covers can be placed on all imperial and metric pitch products.
Partner with the engineering design team from Habasit and receive assistance with the right belt selection for your application. Habasit Application Engineers can work with you to deliver design flexibility that can meet your projects design and financial objectives.
Habasit is a leader in conveying solutions. Habasit is the only worldwide manufacturer offering traditional flat, plastic modular and polyurethane timing belts. For more information on the full range of Habasit products visit our listing on GlobalSpec.
Please note that not all products are standard items in each country. Check with your local Habasit representative for availability within our worldwide service network.