HabaSYNC® Stainless Steel Timing Belt
Featured Product from Habasit America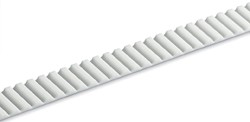 Habasit introduces a new stainless steel timing belt to it's HabaSYNC line of products
This new AT10-I-01 HabaSYNC® timing belt offers reliable conveying and linear movement with its trapezoid tooth shape in a 10 mm metric pitch. The 92 Shore A, wear-resistant polyester urethane matrix material of the AT10-I-01 provides high lubricity, which facilitates low vibration and noise from the drive pulley. The white TPU provides superior oil and chemical resistance. Tracking guides, profiles, or special covers on the conveying side supplement the base timing belt to create a wide array of application options.
The AT10-I-01 is used in applications where water is involved, such as in automation for linear actuators. Stainless steel is an anti-corrosive material that works perfectly in wet environments. This new product closes the gap between galvanized steel and aramide based belts where the tensile member should not rust and mechanical properties like elasticity and less shock load sensitivity are required.

The new AT10-I-01 is a competitive and attractively priced solution that where stainless steel cord reinforced timing belts are required. Please contact your local Key Account Manager today for questions about this product or visit the links provided to the right.