HabaSYNC® timing belt: High Friction Covers
Featured Product from Habasit America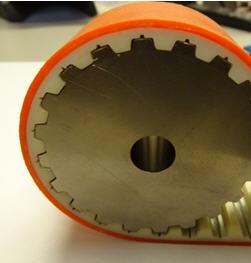 HabaSYNC® timing belts can be supplied with a wide range of high friction covers to assist in product handling. The benefit of additional friction means extra grab and security in conveying applications.
High friction cover materials include; TPU, PVC, NBR Rubber, Silicone and EPDM. Covers can be placed on all imperial and metric pitch products containing both steel or Aramide cords and slit lane combinations. Partner with Habasit in engineering design assistance to help with cover and belt size selection. More importantly, Habasit Application Engineers can work with you to deliver a design for manufacturability solutions that can meet your projects design and financial objectives.
Additional information for HabaSYNC® products with covers can be found at www.habasync.com.
*Please note that not all products are standard items in each country. Check with your Habasit Representative for availability within our worldwide service network.