Habasit Cone Top food belt for wet food cutting
Featured Product from Habasit America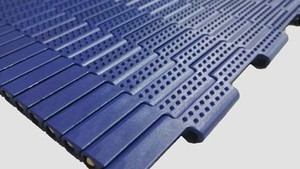 A new cone-top, micropitch modular belt (M0863) from Habasit America is ideal for holding products firmly in wet food cutting machines.
The 0.3" belt features a cone height of 0.04" and a knife edge diameter of 0.236" for tight transfers. A dynamic open hinge design with higher chemical resistances provides easy cleaning and reliable performance. Positive drive guarantees perfect motion alignment with no belt slippage, especially in wet or fatty environments. The modular belt drive system avoids mistracking issues that can occur in short and wide fabric belts. View product PDF.
About Habasit
Habasit helps customers improve reliability, quality and productivity of their equipment and processes, providing excellent conveyor and power transmission products, systems and services. Established in 1946 in Basel, Switzerland, the family-owned company has a global presence in over 70 countries with more than 3,500 employees in affiliated companies and service centers worldwide. Habasit provides the highest quality products and comprehensive, tailor-made solutions from an extensive range of fabric-based conveyor belts, plastic modular belts and chains, power transmission belts, monolithic and timing belts.
Habasit's North American headquarters is in Suwanee, Ga.