Habasit for the Beverage Industry
Product Announcement from Habasit America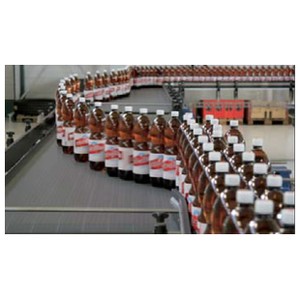 Bottling and Canning
Belts and chains play important roles in bottling and canning applications, with different conveying solutions required for filling and packaging and the various manufacturing stages.
Habasit offers belting solutions for:
De-palletizing
Filling stations
Pasteurizing
Cooling, drying, warming
Single filer
Shrink packaging
Inspection
Case, tray and crate handling
Key element belts
The beverage industry includes several segments, the filling of beverages and liquids in PET, glass and cans as well as the packaging and case handling.
All these processes have one thing in common:
Conveyor belts build an essential part of the production line right from the start until the end, when the fi nished goods leave the factory. Various types and sizes of conveyor and processing belts link the different stages of production and ensure the operational reliability and efficiency of the whole plant.

Habasit offers belting solutions for:
• Bottling (returnable and one way glass bottles)
• Liquids production and filling
• Cans filling and handling
• Case, tray and crate handling

The variety of products Habasit offers the appropriate products for all kinds
of applications, including separation or accumulation, capping machines, mass handling, case packing and handling, inclined and declined conveyors, palletizing and straight and radius applications.
Product ranges for the beverage industry:
HabasitLINK® / KVP® (plastic modular belts)
HabaCHAIN® (slat and conveyor system chains)
HabaFLOW® (fabric based conveyor and processing belts)
HabaDRIVE® (power transmission belts)
HabaSYNC® (timing belts)
HabiPLAST® (profi les, guides, wear strips)
GRABBER® (rubber coated seamless belts)
Rossi Gearmotors (gearmotors, gear reducers)
Your solutions partner Habasit is totally committed to understanding your design parameters and application needs.
After reviewing your requirements, our specialists will suggest the best solution for
each application.

Global expertise
Over 60 years of experience, the widest and most innovative product range, and an extensive global network – Habasit is the clear No. 1 in belting worldwide. We use all our strengths to meet your needs for high-quality belting tailored to your specific requirements.
Habasit is the worldwide market leader in the belting industry. Our key objective is to offer superior solutions for our customers. Anywhere. Any time. Based on over 60 years of experience and continuous innovation, you always receive the best solution for your application. Exactly the right products, right on time.
Unparalleled global service coverage
State-of-the-art production facilities
Major investments in R&D
Full commitment of the leading global belting supplier
Products The best solution for your application. Exactly the right products, right on time.
Services Service the Habasit way, stands for
listening
understanding
fulfilling
anywhere - anytime.
Fabrication It's your choice whether to buy a fabricated or pre-fabricated belt. You can even buy a coil (slab) of belt material to make up yourself. To do this job effectively and efficiently, Habasit offers a range of tools which make on-site installation quick and reliable
The automotive and tire industries require a wide range of industrial belting. Habasit's special range of conveyor and processing belts, as well as timing belts, modular belts and power transmission belts, offers the best solution for every application.
Industrial food processing involves numerous challenges. As the world leader for conveyor belts, Habasit provides tailor-made belting solutions across an extensive range of food processing and packaging applications.
Habasit P line belts are approved for direct tobacco contact and satisfy the most critical applications conveying sticky tobacco in high temperature and humidity environment.
Habasit offers a variety of different treadmill belt types to meet diverse technical and commercial needs.
The range includes traditional treadmill belts as well as maintenance-free types for commercial and institutional treadmill units.
In the world of parcel and letter sorting, the right conveying and sorting systems are essential, and belts are crucial to this.
Habasit provides the postal industry worldwide with belting solutions to meet the need for low costs combined with high efficiency, reliability and operational speed.
Production processes in the printing and paper industry require a vast array of different belts.
As the leading belt manufacturer worldwide, Habasit offers a broad product range that includes feeder belts, machine tapes, driving belts, timing belts, plastic modular belts and chains, conveyor belts, complementary products, and services for all types of applications.
Habasit is the market leader in the textile industry, offering a complete product range for all applications in the short staple, long staple, and man-made fiber sectors.
In addition Habasit offers a comprehensive range of excellent product for all types of textile printing and nonwovens.
Habasit offers tailor-made solutions for the business machines industry, with belts for copying, banking, and document handling applications. As a leading belt manufacturer, Habasit's broad product range includes seamless belts, grabber feeder belts, drive belts, conveyor belts, and much more.
Belts and chains play important roles in bottling and canning applications, with different conveying solutions required for filling and packaging and the various manufacturing stages.
Wood processing machines require a wide range of industrial belting. Habasit has developed a leading range of solutions using power transmission, conveyor, processing and timing belts.
Thanks to our thorough understanding of application requirements, customer-focused approach, and broad product range, Habasit has a global leadership position in the packaging machinery industry.
Materials Handling and Airports
Habasit's decades of experience in the belting business and expertise in meeting a huge variety of application needs is the basis for our extensive consulting capabilities.
Our traditional belts have won an excellent reputation at major airports, distribution centers and supermarket around the world. Countless conveyors equipped with Habasit products support logistics and manufacturing processes in a wide variety of industries.
Habasit focuses all its expertise and know-how on providing the perfect solutions to the specific needs of your industry.
Our strength are continuous research, decades of experience and a broad product range.
Frequently Asked Questions - FAQ
---