High temp grip material for conveyor belts
Featured Product from Habasit America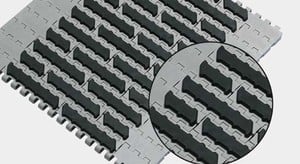 Habasit's new high temperature grip material has the highest heat resistance in the industry. The one-inch M2520 module is ideal for hot food applications like bakery pans or hot metal sheets.
The grip material handles temperatures up to 266O F or short-duration exposures up to 302O F. Long-lasting performance and reduced downtime are benefits of this abrasion-resistant, high-friction thermoplastic material. Less heat and friction-related melting means less risk of contamination. Excellent gripping properties allow precise product positioning even on inclines and declines. View product PDF.
About Habasit
Habasit helps customers improve reliability, quality and productivity of their equipment and processes, providing excellent conveyor and power transmission products, systems and services. Established in 1946 in Basel, Switzerland, the family-owned company has a global presence in over 70 countries with more than 3,500 employees in affiliated companies and service centers worldwide. Habasit provides the highest quality products and comprehensive, tailor-made solutions from an extensive range of fabric-based conveyor belts, plastic modular belts and chains, power transmission belts, monolithic and timing belts.
Habasit's North American headquarters is in Suwanee, Ga.