Low Profile Conveyor Belts
Product Announcement from Habasit America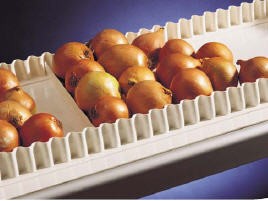 Habasit America introduces the new WVT-191 (white) and WVT-211 (cobalt blue) belts to the light weight conveyor belt line. They are uniquely designed to optimize the performance of conveyors with integral horizontal-incline transitions and conveyors built with slider rails rather than the traditional sliderbed. These belts can be used in a wide variety of applications including food processing, metal detection, injection molding, product inspection, metal stamping, and vacuum transport.
Like most Habasit belts, the WVT-191 and WVT-211 are customizable with various splicing options and a wide selection of weldable profiles such as cleats, sidewalls and v-guides are available to further support any unique application requirements.
Benefits
• Buckle resistant, flat conveying surface; stable horizontal-incline transition
• Greater tracking stability and longer service life
• Oil and cut resistant FDA grade urethane belts that will handle a wide range of operating conditions
• Inclined conveyance or light accumulation cover options
• Low ocular strain, color contrasting cobalt blue cover
• Antistatic construction supports safety and mitigates cling of light synthetic parts
• Short transfer distances, utilizing small pulley diameters
For more information, call Habasit America today to speak with our Engineers and Application Specialists who are ready to assist you with selecting the appropriate belt for your application.
---