New pitch for Habasit Saniclip
Featured Product from Habasit America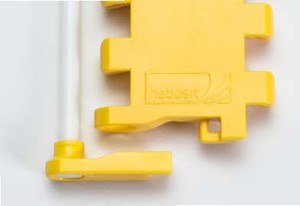 A new two-inch pitch Habasit Saniclip rod retention system is now available. Habasit Saniclip rods can be removed and reinstalled by line operators in a few seconds without tools to reduce maintenance costs and enhance sanitation processes.
Target markets include meat, poultry, fish, dairy, bakery, and confectionery lines and wherever frequent and quick rod removal for easy belt opening is a key factor.
The six-inch edge module is easy to clean with a dynamic open hinge and food-approved acetal (POM) material. Snap-Fit seven-millimeter rods use the Smart Fit rod retention system. View product PDF.
About Habasit
Habasit helps customers improve reliability, quality and productivity of their equipment and processes, providing excellent conveyor and power transmission products, systems and services. Established in 1946 in Basel, Switzerland, the family-owned company has a global presence in over 70 countries with more than 3,500 employees in affiliated companies and service centers worldwide. Habasit provides the highest quality products and comprehensive, tailor-made solutions from an extensive range of fabric-based conveyor belts, plastic modular belts and chains, power transmission belts, monolithic and timing belts.
Habasit's North American headquarters is in Suwanee, Ga.