Pin drive, light blue meat processing belt
Featured Product from Habasit America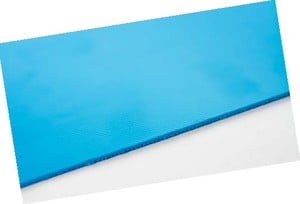 Habasit America is now supplying a versatile pin drive meat processing belt that features double-sided glossy urethane coating for improved hygiene in detection and processing poultry equipment.
The edges of the TT122 Light Blue belt are sealable to satisfy meat plant sanitation requirements. The thermoplastic polyurethane surface resists stringing to avoid contamination issues and features increased wear resistance to withstand abrasive contact from scrapers or other equipment. The traction layer is made of PET polyester. The trough-friendly, anti-static belt design is suitable for small pulleys to facilitate tighter transfers.
About Habasit
Habasit helps customers improve reliability, quality and productivity of their equipment and processes, providing excellent conveyor and power transmission products, systems and services. Established in 1946 in Basel, Switzerland, the family-owned company has a global presence in over 70 countries with more than 3,500 employees in affiliated companies and service centers worldwide. Habasit provides the highest quality products and comprehensive, tailor-made solutions from an extensive range of fabric-based conveyor belts, plastic modular belts and chains, power transmission belts, monolithic and timing belts.
Habasit's North American headquarters is in Suwanee, Ga.