Plastic belting material has x-ray visibility
Featured Product from Habasit America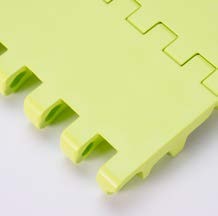 As x-ray detection systems and plastic modular belts become more common in food processing and packaging operations, Habasit America has introduced a new POM+DX thermoplastic belting material that is visible to x-rays.
Suitable for direct food contact to help avoid contamination in accordance with FDA and EU regulations, the new POM-based material, modified for impact resistance, is ideal for red meat, poultry, fish and dairy operations. The new material is available in several Habasit belt styles and pitches from the M1100 series to the M6300 series. View product PDF.
About Habasit
Habasit helps customers improve reliability, quality and productivity of their equipment and processes, providing excellent conveyor and power transmission products, systems and services. Established in 1946 in Basel, Switzerland, the family-owned company has a global presence in over 70 countries with more than 3,500 employees in affiliated companies and service centers worldwide. Habasit provides the highest quality products and comprehensive, tailor-made solutions from an extensive range of fabric-based conveyor belts, plastic modular belts and chains, power transmission belts, monolithic and timing belts.
Habasit's North American headquarters is in Suwanee, Ga.