Quick release chain link for conveyor chains
Featured Product from Habasit America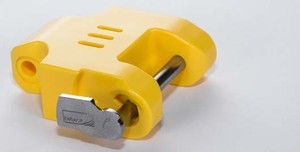 Quick release chain link available from Habasit
Time-consuming hammer-and-punch pin removal and possible chain damage is no longer necessary thanks to a new quick-release chain link from Habasit America.
This safety-conscious bright yellow link is made of standard POM acetal material with food-grade stainless steel rods that are easily and quickly removable for cleaning and maintenance. The HabaCHAIN® C1201AB links are designed for bidirectional travel and feature a perforated flat top with tapered slots to reduce trapping of conveyed product. Primary applications include poultry, red meat, fish, dairy, and bakery. View product PDF.
About Habasit
Habasit helps customers improve reliability, quality and productivity of their equipment and processes, providing excellent conveyor and power transmission products, systems and services. Established in 1946 in Basel, Switzerland, the family-owned company has a global presence in over 70 countries with more than 3,500 employees in affiliated companies and service centers worldwide. Habasit provides the highest quality products and comprehensive, tailor-made solutions from an extensive range of fabric-based conveyor belts, plastic modular belts and chains, power transmission belts, monolithic and timing belts.
Habasit's North American headquarters is in Suwanee, Ga.