Quick-release chain link HabaCHAIN® C1201AB
Featured Product from Habasit America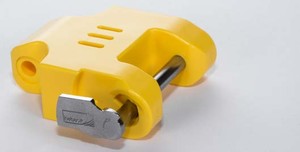 Traditional chain designs involve laborious pin removal procedures—typically by hammer and punch—which prolong maintenance efforts and create safety issues, such as hand injuries. To accelerate pin removal and protect personnel, Habasit developed the HabaCHAIN® C1201AB quick-release chain link, serving applications where speedier maintenance results in added emphasis on sanitation.
This innovative link features the following:
Quick-release design for easy disassembly / assembly of the 1201 case chain
Perforated flat top design
Tapered slots to reduce trapping of conveyed product
Safety-conscious design for pinch protection
Bi-directional travel
Highly visible yellow color
Standard POM (Acetal) module material with foodgrade stainless steel rods
Any application that needs to enhance its sanitary standard and process within the food industry and requires quick chain removal for easy cleaning and maintenance operations.
Main industries include:
Poultry
Red Meat
Fish
Dairy
Bakery
The quick-release pin prevents the risk of damaging the chain or reducing the retention force of the pin—issues that can occur when pin removals and insertions are performed improperly.