Radius Running Plastic Conveyor Chain
Featured Product from Habasit America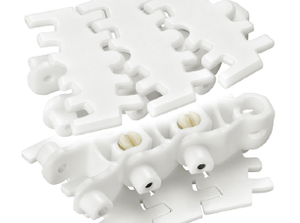 HabasitCHAIN Flexi 7100HA for Conveyor layouts requiring tight turns:
Radius running conveyor system plastic chain
Easy assembly and disassembly
Openings for cleaning with compressed air
Capable to run on corner discs
Pin material: stainless steel
Standard packaging: 3.048 m = 10ft
The weight specification is indicative
Other materials on request
Request a Quote
Related products:
Solid Sprockets-Series 7100
Solid Idlers-Series 7100
HabiPLAST wear strip FL W 15.5x6.1
Habasit is the worldwide leader in the belting industry. During decades of market leadership, we have developed a broad range of superior products and services as well as a profound knowledge base and experience. Building on these strengths, we are combining our dynamic growth with a continuous extension of our offerings. Our totally customer-driven approach makes Habasit the best provider of high-quality power transmission and conveying solutions for every application.