Round belt welding kit available from Habasit
Featured Product from Habasit America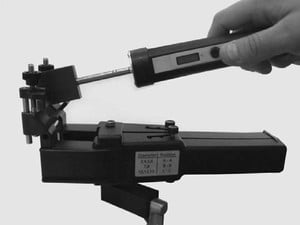 A simple, cost-effective tool for quick-melt welding of Polycord® round belts uses two improved solders, a Teflon-coated heating plate and an electronic display to set a precise temperature for joining a variety of round belts.
Designed for easy, on-site use, the PQ-01 tool reaches a working temperature of 270O C in five minutes. It maintains precise temperatures from 120O C to 300O C. The 70-watt tool weighs 1.5 pounds and can handle round belt diameters up to 15mm (0.59"). View product PDF.
About Habasit
Habasit helps customers improve reliability, quality and productivity of their equipment and processes, providing excellent conveyor and power transmission products, systems and services. Established in 1946 in Basel, Switzerland, the family-owned company has a global presence in over 70 countries with more than 3,500 employees in affiliated companies and service centers worldwide. Habasit provides the highest quality products and comprehensive, tailor-made solutions from an extensive range of fabric-based conveyor belts, plastic modular belts and chains, power transmission belts, monolithic and timing belts.
Habasit's North American headquarters is in Suwanee, Ga.