SM605 Saniclip 0.5"
Featured Product from Habasit America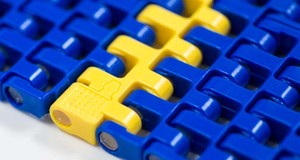 This new half-inch addition to the Habasit Saniclip line continues the same fast, easy belt removal of other models. The E05 Saniclip module is compatible with the SM605 Smooth Mesh belt and the CM605 Curved Mesh belt. Habasit Saniclip plugs and rods can be quickly extracted and reinstalled by line operators without tools to enhance sanitation procedures.
Key Features
Edge module 2" (50.8 mm)
30% open area
Closed hinge
Snap-Fit rods, diameter 4.4 mm (0.17")
Standard POM (Acetal) food-approved material
Highly visible yellow color
Applications
Poultry
Red Meat
Fish
Dairy
Bakery
Confectionary
Saniclip advantages
Habasit Saniclip solves the problem of time-consuming belt removal and eliminates the need for extraction tools so operators can stay focused on safe sanitation practices.
The Habasit Saniclip plug can be manually extracted and reinstalled by line operators in a matter of seconds without tools.
Plug and rod are combined to prevent accidental plug loss.