Saniclip Available for M5060 2" module
Featured Product from Habasit America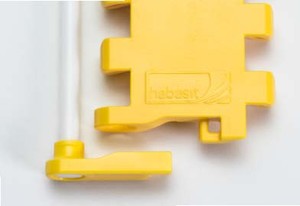 The M5060 Saniclip module continues the success of its smaller predecessors, offering higher strength and impact resistance in a 2" pitch. The increased module size allows for suitability in an expanded range of applications, where efficient rod installation and removal create value by reducing maintenance labor and accelerating sanitation procedures.
Key features include:
6-inch edge module width (152 mm)
0% open area
Easy-to-clean, dynamic open hinge
Strong link design (1" link-pitch)
7-millimeter Snap-Fit rods (0.27")
Smart Fit rod retention
Food-approved acetal material
A Saniclip rod can be manually extracted and reinstalled directly by line operators in a matter of seconds, without tooling. This innovative device enhances sanitation processes, meriting regular use in the food industry, and improves the efficiency of maintenance procedures, gaining popularity in a wide range of applications.
Main industries include:
Meat
Poultry
Fish
Dairy
Bakery
Confectionery
Wherever frequent and quick rod removal for easy belt opening is a key factor
The E15 Saniclip module is compatible with all the M506X belt series: Flat Top, Nub Top and Minirib. It is also compatible with M5085 Flush Grid 2" belt but not compatible with the M5065 Flat Top HyClean belt series due to a different hinge design.