UV Aging Test Chamber Flat Type
Product Announcement from Haida International Equipment Co., Ltd.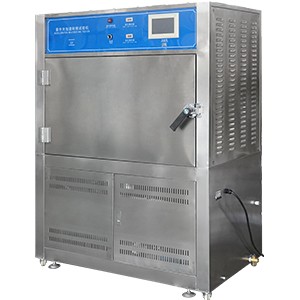 UV Ageing Test Chamber uses a special fluorescent UV lamp to simulate the effects of sunlight. It uses condensation humidity and water spray to simulate dew and rain. To simulate outdoor weathering,UV Accelerated Test Chamber exposes the material to alternating cycles of UV light and moisture at controlled high temperatures.
UV Aging Test Chamber is mainly used for coating ink paint, resin, plastic, printing and packaging, aluminum, adhesives, automobile and motorcycle industry, cosmetics, metals, electronics, electroplating, medicine and so on. UV Aging Test Chamber meet international standard,such as GB, GJB, MIL,ASTM,CNS,IEC,JIS,Fed Test,BS,etc.
Standard Features
Item Specification
Internal dimension (W*D*H) 1140*650*500mm
External dimension (W*D*H) 1340*700*1800mm
Chamber material SUS#304 stainless steel
Temperature range RT to 70?
Temperature fluctuation ≤±1.0?
Temperature uniformity 3?
Humidity range: ≥75%RH
Controller Programmable controller, LCD touch screen
Control mode Balance temperature humidity control (BTHC)
Test cycle setting Exposure, condensation and water spray test cycle is programmable
Water spray cycle Spray 18mins in every 120mins / spray 12mins in every 60mins
Water usage 8L/day
Distance from sample to lamp 55±2mm
Centre distance between lamps 65~70mm
Irradiance range 0.45~0.90W/m2
UV lamps Imported Atlas UV-A: 315-400nm (8pcs, 1600h lifetime)
Lamp power 40W/Piece
Specimen Size Irregular sample
Testing time 0~999H, adjustable
Test Criteria
AATCC TM186 Weather Resistance: UV Light and Moisture Exposure
ASTM C1257 Standard Test Method for Accelerated Weathering of Solvent-Release-Type Sealants
ASTMD3424Standard Practice for Evaluating the Relative Lightfastness and Weatherability of Printed Matter
ASTM G151 Practice for Exposing Nonmetallic Materials in Accelerated Test Devices That Use Laboratory Light Sources
IEC 61345 UV Test for Photovaltalic (PV) Modules
ASTM G154 Practice for Operating Fluorescent Light Apparatus for UV Exposure of Nonmetallic Materials
Applications
Simulate the sun, rain spray and condensation resulting damage to test the materials by exposure to sunlight with moisture and temperature.
To get the results of damage after several days or weeks which is equal to expose to outside for a few months. The damages include fading, discoloration, brightness down, powder, crack, blur, brittle, strength decreases and oxidation.
Provide reference with testing data for improvement of existing materials, or to assess the impact of changes in product durability and other aspects.
Feature
The sample holder is an aluminum alloy frame base
Intelligent digital controller,LCD touch screen
Steam condensation mechanism
High-precision photometric control system
---