Custom Machined Seals
Product Announcement from Hallite Seals International Ltd.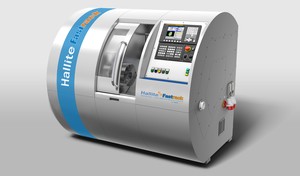 As a major supplier in fluid power, process, and several other sectors, Hallite Seals prides itself on reputation for providing flexible and responsive service to meet the ever increasing dynamics of industry. In addition to our extensive range of stocked molded products, we offer custom designed sealing solutions incorporating extensive engineering support, CAD/CAM software, and an experienced team of technicians.
Hallite has the ability to produce an infinite number of profiles by using our computer aided software, customer prints and engineered sealing solutions. Our sealing products that comprise a complete high performance system solution can be manufactured from 0.250 of an inch (6.35mm) to over 52 inches (1320mm) out of a wide range of application specific specialty elastomers and high performance plastics.
A small sampling of materials are - thermoplastic polyurethanes (TPU), thermoplastic polyesters (TPE), Nitrile (NBR), hydrogenated nitrile (HNBR), fluoroelastomer (FKM), polytetrafluoroethylene (PTFE - several filled versions), polyamides, PolyEtherEtherKetone (PEEKs), and other proprietary materials.
This Fastrack portfolio positions Hallite to deliver in conditions when immediate service is required and some examples are as follows:
Breakdown situations
Rapid prototyping
Nonstandard metal dimension
Unique performance requirements
Custom shapes
Discontinued service parts
Special engineered solutions
For a free custom seal quotation, simply submit your seal specifications via our online form.
---