Compact Full Height Syringe Pump
Featured Product from Hamilton Co.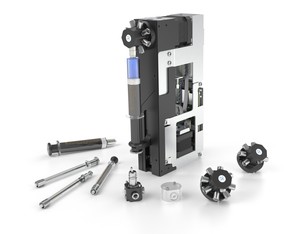 The Hamilton PSD/6 is the newest full-height syringe pump to join the Hamilton PSD family. It is Hamilton's most compact full height pump and offers the largest range of compatible syringes sizes. Enhanced flow stability and increased dispense times make it ideal for applications like flow cytometry and micro fluidics.
The PSD/6 performs all standard liquid handling functions, including dispensing, serial dispensing and diluting. The PSD/6 is a reliable turnkey system to meet the requirements of the most demanding applications. Ensure that your development projects stay on time and on budget with proven technology that is engineered to exceed expectations.
Other features and benefits of the PSD/6:
60 mm stroke length
22 lbf. of lift force; upgradable to 50 lpf.
True speed firmware good for microfluidics
Small footprint with flexible mounting options
Stepper motor with 48,000 steps per 60 mm stroke
Operates alone or in a daisy chain
Demo cables and software CD available
RoHS-compliant