Sensor for Viable Cell Density Monitoring
Featured Product from Hamilton Company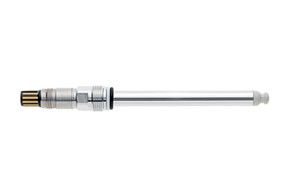 Hamilton Company introduces the Incyte capacitance sensor for viable cell density monitoring in bioprocessing, along with the Dencyteeoptical sensor for total cell density measurement. The two sensors deliver real-time insight into cellular health during a process – data that can be used to optimize product yield and quality. The sensors can be used independently or together with Hamilton's online pH and dissolved oxygen sensors to monitor the complete set of parameters that are critical to bioprocessing. All sensor data can be viewed and analyzed on the Arc View controller for simplified data handling. Incyte and Dencytee are the first products that Hamilton is bringing to market as a result of its technology acquisition from Fogale Nanotech last year.
Cell density sensors are used to monitor changes in cell physiology, cellular respiration, viral infection timing, automated harvesting and much more. This critical process parameter provides a wealth of information to assist researchers in their goal of improving product yield and quality and conforming to the FDA's Process Analytical Technology (PAT) initiative.
The Incyte sensor uses dielectric spectroscopy to measure living cells in suspension. The measurement is insensitive to media changes, microcarriers, dead cells or floating debris. The sensor provides real-time access to information that is traditionally obtained through a manual, offline process, which is contamination-prone and often not carried out with optimal frequency. With more frequent data collection, researchers gain a better understanding of their process and can optimize production quality and yield. This is especially critical in pharmaceutical and biotech settings where there is significant cost associated with a failed batch.
"Early users of these sensors have reported a 10 percent improvement in yield with a two day reduction in run time," said Jason March, director of marketing at Hamilton Company. "With results like this, online viable cell monitoring will become standard within five years."
For total cell density measurement, Hamilton's Dencytee sensor offers a significant improvement over traditional classical turbidity sensors. As the cells grow, the optical density of the cell suspension increases and a traditional sensor begins to loose linearity. The Dencytee sensor increases the light emitted by the source to compensate for increases and maintain linearity over a wider range of cell concentrations.
"Some customers are combining two measurements to make a third," said Don Spriggs, market segment manager at Hamilton Company. "For example, dissolved oxygen and viable cell density give researchers valuable insight into cellular respiration."