SoftGrip ™ Manual Pipettes & Pipette Accessories
Featured Product from Hamilton Company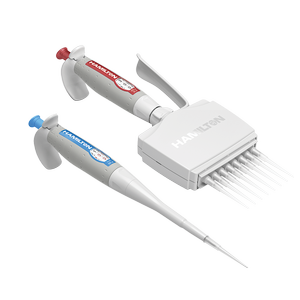 SoftGrip ™ Manual Pipettes and Pipette Accessories from Hamilton.
Comfortable feel without compromise
The SoftGrip pipette sets new standards in pipette technology with its award-winning*, innovative design. Using our expertise in precision fluid measurement, we've developed the highest quality pipette with an emphasis on minimizing the hand strain, fatigue and injuries caused by other pipettes.
Please use the links to the right for additional information, ask a question or to request a quotation.
Click here to view pipette kits:
Click here to view pipette tips:
Less hand fatigue and discomfort
The soft ergonomic shape and low plunger forces of the SoftGrip pipette mean less user fatigue. There is less discomfort in the hand and wrist as compared to other pipettes during prolonged use. Overall, use of the SoftGrip pipette decreases the risk factors associated with pipette-related repetitive stress injuries such as carpal tunnel syndrome.
Guaranteed accuracy and precision performance
SoftGrip pipettes deliver unsurpassed accuracy and precision from the leader in precision fluid measuring. Every pipette is calibrated at the factory with standards traceable to NIST and shipped with a Certificate of Calibration documenting the pipette's accuracy and precision. Use of Hamilton AdvanTip™ Precision Pipette Tips plays an important role in overall performance.
Hamilton Company is the worldwide leader in the design and manufacture of manual, semi-automated and robotic products for precision fluid measuring. For nearly 50 years, Hamilton has been satisfying customer needs by combining quality materials with skilled workmanship, ensuring the highest level of performance of every precision fluid measuring device we manufacture. Hamilton's lifelong commitment to precision, accuracy, and quality has earned us global ISO 9001 Certification.