Tensioner
Featured Product from Hangzhou Chinabase Machinery Co., Ltd.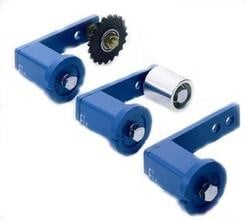 This tensioner consists of elastomeric inserts.
They are based on highly elastic natural rubber with a good shape memort and designed for applications in temperatures from -20? to +60?.
The tensioner combines some functions of springs,bearings ,tensioners and vibeation dampers>
The tensioner is designed as easy installing and maintenance free for chain and belt drives.Several standard sizes and wide range of accessiries are available.
The tensioner can be used for both tensioning directions.
Chain tensioner/Idler sprocket
Belttensioner/Roller