Hannay Reels C1150 Portable Storage Reel
Featured Product from Hannay Reels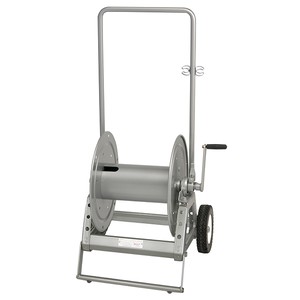 Hannay Reels C1150 series portable storage reel on wheels is ideal for hose, cable, rope or wire storage. This series can hold up to 900 feet of hose or cable depending on OD.
Features:
Direct crank rewind and cam-lock drag brake.
Removable steel handlebar.
Comes with rubber tires.
1-1/8" x 2-3/8" (28 mm x 60 mm) opening in the drum to initiate winding.
Storage Applications:
Industrial maintenance hose or cable
Construction - keep cable and hose organized
Grounds Maintenance / Agriculture - storage for irrigation hose or electric power cords
Communications - storage of video inspection cable, audio cable, etc.