Hannay Reels 1800 Series For Air Compressors
Featured Product from Hannay Reels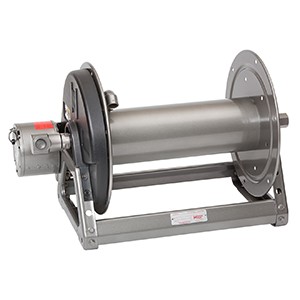 Ideal for air compressors and washdown applications, Hannay Reels 1800 Series Manual or Power Rewind Reels are compact and lightweight. The direct crank is attached to rewind long-length 5/8" or 3/4" ID hoses. The chain and sprocket drive are powered by an electric, hydraulic or compressed air motor, and manual reels come with a cam-lock brake and spring actuated pin lock.
Features:
Lightweight, compact reels designed for long lengths of hose in manual and power rewind.
Direct crank rewind is permanently attached.
Chain and sprocket drive powered by electric, hydraulic, or compressed air motor.
Manual reels include cam-lock drag brake, spring actuated pin lock.
Standard inlet: 90° ball bearing swivel joint, 1" female NPT threads.
Standard outlet: 3/4" female NPT threads.
Optional rollers: specify roller position when ordering.
Pressures to 2000 psi (138 bar).
Temperatures from -40° F to +250° F (-40° C to +121° C).
Consult factory for other pressures and temperatures.
Applications: