Hannay Reels 7500 Series For Large Diameter Hoses
Featured Product from Hannay Reels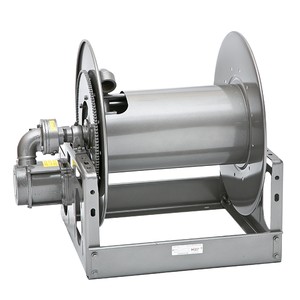 The 7500 Series from Hannay Reels is heavy-duty designed for longer lengths and larger diameters of hose through 3" I.D. The reels can be powered by a gear driven crank or a chain and sprocket powered by electric, hydraulic or compressed air motor. Ideal for fueling applications, bulk transfer, suction, discharge, and chemical transfer operations, the 7000 Series can accommodate temperatures from -60° F to +175° F (-51° C to +79° C).
Features:
Choose gear-driven crank rewind or chain and sprocket drive powered by an electric, hydraulic, or compressed air motor.
Crank rewind reels supplied with pinion brake and power rewind reels with a comet brake.
Standard inlet: 90° ball bearing swivel joint, 1-1/2" female NPT threads and 2" Victaulic groove.
Standard outlet: flanged riser, 1-1/2" female NPT threads.
Standard: inlet, outlet riser, and hub assembly are steel. Options: also available in aluminum or stainless steel
Operate at pressures to 600 psi (41 bar).
Temperatures from -60° F to +175° F (-51° C to +79° C).
Rollers and roller mounting brackets are accessory items. Specify roller position.
Consult factory for other pressures and temperatures; optional chain guard.
Applications:
Fuel Dispensing
Bulk Transfer
Suction
Discharge