Hannay Reels NSCR Series Spring Rewind Reels
Featured Product from Hannay Reels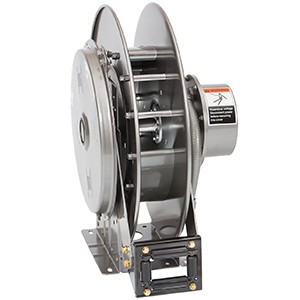 Hannay NSCR Series Spring Rewind Reels are designed to handle live electric cable. A heavy-duty motor along with a non-sparking ratchet and declutching arbor make this an exceptionally safe and durable reel. The NSCR Series features double brushes per circuit, and the brushes are made from copper granite with copper alloy rings. Constant tension and vertical lift, among other options, are available upon request.
Features:
Heavy-duty spring motor.
Non-sparking ratchet.
Declutching arbor.
Consult factory for constant tension applications.
3-conductor, 45 amp, 600 volt collector assembly with #8 gauge wiring.
Double brushes per circuit; brushes are copper graphite with copper alloy rings.
Additional conductors or higher amperage (up to 300 amps) available; consult factory.
Silver collector available.
Supplied with 4-way roller assembly; roller position must be specified.
Cable stop should be used.
For vertical lift, stretch and/or crane installation, consult factory for proper spring specifications.
Applications: