Hannay Reels SWCR Spring Rewind Arc Welding Reels
Featured Product from Hannay Reels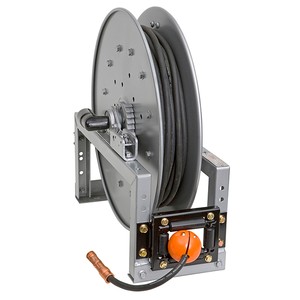 Available in manual rewind or power rewind, the SWCR Series of Spring Rewind Arc Reels can handle #2 through #4 cables up to 400 amps. This reel quickly connects the welder to the project at hand and instantly unwinds any cable length for immediate use. The non-sparking ratchet assembly and the declutching arbor are standard, while a cable and ball stop are available options.
Features:
400 amp rated rotary electrical device.
Instant use with any cable length unwound.
For use with single conductor electrode cable or grounding lead.
Quick connection to your welder.
Easy access and greaseable zerk fitting.
4-way roller assembly. Roller position must be specified.
Non-sparking ratchet assembly.
Declutching arbor is provided to prevent damage from reverse winding.
Cable stop should be used.
Applications: