Hannay Reels Series F1500 Breathing Air Hose
Featured Product from Hannay Reels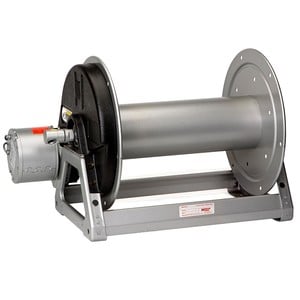 Hannay Reels F1500 Series hose reels are ideal for use with 1/2" breathing air hose. The F1500 is designed for firefighting and rescue operations, including backpack recharging and direct-to-personnel air. All internal components are made of stainless steel, degreased and cleaned to promote quality-breathing air.
The F1500 is available in manual or power rewind models, with a pinlock that is standard on crank rewind models and optional on power rewind models. Its discs, face mount motor, frame and bearing housings are E-coated for higher corrosion protection. The EF1500 is available in a variety of high-pressure ratings, thread styles, user configurations and joint types.
Features:
Lightweight, compact reels designed for long lengths of hose in manual and power rewind.
Manual rewind reels include: cam-lock drag brake, spring actuated pin lock and direct crank rewind.
Power rewind reels include: chain and sprocket drive powered by electric, hydraulic or air motor.
Standard inlet: 90° ball bearing swivel joint,1/2" female NPT threads.
Standard outlet: 1/2" female NPT threads.
Stainless steel internals are required for breathing air applications.
Other sizes and threads can be furnished and must be specified.
Rollers and roller mounting brackets are accessory items; specify roller position.
Standard finish is oven-cured enamel; polished stainless steel discs and sprocket with chrome frame cost extra.
F and FL1500 reels pressures to 3000 psi (207 bar).
FH1500 reels pressures up to 6000 psi (414 bar).
Temperatures from +20°F to +400°F (-7°C to +204°C).