HD Estimating
Product Announcement from Hard Dollar Corp.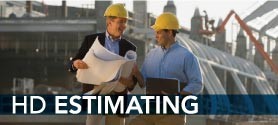 Estimating Overview
HD Estimating is used by owners, EPCMs, and contractors to build cost model estimates from resource libraries, design quantities, quotes, historical estimates, and other estimate sources. HD estimating establishes standard processes and core estimating methodologies with role-based templates, common views, central resource rates, industry specific libraries, and the reduction of spreadsheets.
Validate Estimates Against Historical Benchmarks
Easily compare cost and productivity values in the current estimate to historical norms. Steam line estimate reviews by instantly spotting items outside the historical range.
Leverage Multiple Cost Model Sources
Build cost model estimates from multiple data sources including historical estimates, detailed resources, plug values, takeoff systems, vendor quotes, scheduling, and outside estimating systems.
Click here to learn more!
---