HD Professional Services
Product Announcement from Hard Dollar Corp.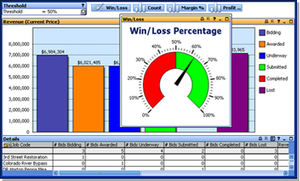 Solve Business Issues with HD Professional Services
Hard Dollar works collaboratively with its customers to help identify and solve their underlying business issues through the successful deployment of its software tools.
This is done by developing, advocating and implementing solutions that have been time-tested in the field at literally hundreds of customer locations. This approach allows you to leverage the experience of the Hard Dollar Professional Services team, which has "been there, done that" with a successful track record of implementing customers for over 20 years.
Solutions range from fixed price, turn-key implementation services to "a-la-carte" offerings that can be combined to create a customized solution for a specific set of business drivers. Some examples of Professional Services offered include:
Workflow Documentation
Experience tells us that two customers may arrive at the same result in Hard Dollar by using two different approaches. This may be due to the markets they serve (and their customers' proposal and reporting requirements) or one approach may simply be preferred over another by the user community. Regardless of the reasons, many customers have found great value in documenting their existing workflow processes, and having a hard-copy manual available as a reference tool for new hires or as existing employees are rotated through the construction office. The "This is How We Use Hard Dollar" documentation is typically done in a role-based approach, providing all the details on a "need to know" basis for the various groups using Hard Dollar (e.g., Estimator, Administrative Personnel, Project Manager, Foreman, Accounting Personnel, Dispatcher, Executive, etc.).
Best Practices Recommendations
Throughout the course of implementing hundreds of customers over 20 years, the Hard Dollar Professional Services team has learned that there is no "one size fits all" approach to deploying the software for equal benefit to all customers. However, based on each client's individual needs and requirements, a "best practices" approach can be defined and documented based on a particular firm's requirements, ensuring that the implementation decisions made today will be supported as the use of the software tools continues to grow and evolve.
Integration & Custom Report Creation
Many times, it becomes necessary to enhance the integration between Hard Dollar and other internal systems. For instance, budget and timesheet data collected in Hard Dollar may need to be configured to align with the deployment of a firm's accounting software. Alternatively, clients may have complex reporting requirements which cannot be addressed via "out of the box" solutions. During this process, client needs are discovered, solutions are developed and deployed to solve these business issues.
Education & Set up
Typically performed at a customer's office, an educational session allows for a core team of "power users" to fully understand the power of HD and the different ways in which specific business problems can be addressed. Going beyond the content of a standard training class, this service often includes establishing customized views, assisting with establishing and implementing a security policy, defining reporting output and customizing HD field labels to mirror a client's internal processes. Typically, the information gathered during this Education & Set up phase serves as the outline for a customized end-user training course for a specific organization.
Readiness Assessment
Prior to deploying the software, this step ensures the technical environment is sufficient to support the deployment today and in the future. This includes evaluating the existing hardware and software infrastructure and providing any upgrade recommendations. During this process, decisions regarding consolidating or re-purposing servers can be made, which may result in overall IT cost savings.
Software Installation & Configuration
By working closely with Hard Dollar's Technical Operations team, software is installed and configured properly, the first time. This becomes increasingly important for distributed environments or in cases where integration among many systems or modules (e.g., Primavera, Project Portfolio Analytics, Resource Coordination, remote Timesheet Collectors) are to be sharing information in concert. This service includes evaluating the existing hardware and software infrastructure and providing any upgrade recommendations. During this process, decisions regarding consolidating or re-purposing servers can be made, which may result in lower expenditures and / or overall IT costs savings.
Fixed Price Implementation
Just like your customers want a "guaranteed price" for your work, Hard Dollar has designed a single price for implementing your system. One price, no hidden costs gets the job done.
Hard Dollar is committed to the success of its customers, and well positioned to back up this commitment. What makes Hard Dollar uniquely competent in customer implementations is an experienced team of implementation and product experts, and proven processes utilized during implementation. Hard Dollar employs the talent and skills to guide customers through a methodical implementation process, allowing the customer to take full advantage of the functionality and capabilities of the HD solution as quickly as possible.
Hard Dollar's implementation process has been deployed in many customer organizations nationally and internationally with great success. Hard Dollar virtually eliminates the risk associated with most software implementations by executing within these process guidelines. While flexible in approach, Hard Dollar is able to accommodate customers in many different environments, allowing for individual business operation within corporate standards.
For more information about Hard Dollar Professional Services click here to email our Professional Services Team.
---