Carbon Fiber research and development line
Featured Product from Harper International Corporation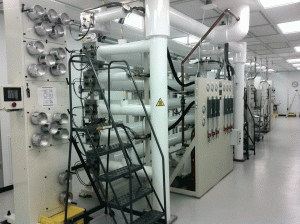 Even our smallest scientific scale Carbon Fiber research and development line emulates real world production across all equipment, yet delivers the precision and flexibility needed to aid research efforts and future scale up. Requiring only one person to operate, this inventive system is designed to handle very few filaments – from 10 to 20 filaments up to 6k, and operates at about .15 meters per minute or .005kg per hour, as shown here (right) in this R&D system installed at the Georgia Institute of Technology.
The scientific line size is ideal for precursor development and validation, as material property data can be obtained from small samples. It does not require cooling water or natural gas and uses low emissions so that volatiles can be safely vented to outdoors without abatement equipment.
Harper designs with the end in mind to help facilitate the transition to the next scale step while enabling research goals. Some examples include:
Individual zone temperatures that mimic larger scale ovens and furnace designs
Tensioning designed similar to production systems – adjust draw rate in between Oxidation Oven passes and in between Furnaces, even with very small tow sizes
Ability to change air velocity in the oven for more flexibility in precursor chemistries to handle different exothermic reactions
For investment and technical configuration considerations, the system can also be designed with:
Single or multiple dip systems for surface treatment
Optional UHT furnace for investigation of high modulus fibers up to 2800°C
Configuration of control system for preferences regarding remote access and data historian
Material handling for emerging precursors including those requiring belt transport
Additionally, Harper offers testing facilities for its customers if needed prior to equipment investment to assist with scale up and process development, a unique solution that no other process line provider can offer.