Carbon Fiber systems
Featured Product from Harper International Corporation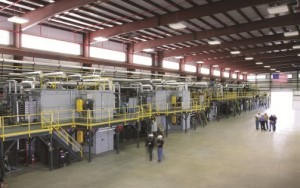 Harper's full integrated pilot scale Carbon Fiber systems offer features and conditions aligned with production scale systems for customers making higher amounts of material for sampling and trialing yet at smaller quantities than full scale Production Lines.
Pilot line systems are ideal for process optimization, as well as for producing adequate volumes of materials for market development and downstream research. They provide nearly identical conditions as full commercial scale lines, but with the ability to train operators without risk to commercial production, evaluate changes in processing parameters before deploying on full lines, and the ability to identify possible process issues at a smaller scale.
As an example, this cutting-edge 4.3kg per hour pilot scale Carbon Fiber line installed at Oak Ridge National Laboratory's (ORNL) Carbon Fiber Technology Center (pictured right) accommodates small tow size ranges of four 12k or sixteen 3k, a minimum 48k total, and boasts a design centered around advanced piloting, including features to facilitate the customer's alternative precursor development needs, such as:
Belt transport in Ovens and Furnaces for matted or felted product formats
Driven pass-back rollers for slip prevention at low loading
Internals with a high degree of corrosion resistance for alternative precursor use
Three discreet airflow directions
Learn more about Harper's innovative complete Pilot Line at Oak Ridge National Laboratory's CFTF with this Case Study.