Novel Furnace Designs for Powder Processing
Featured Product from Harper International Corporation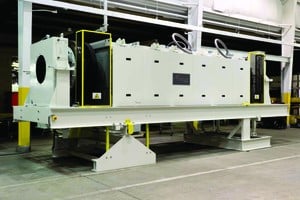 Rotary furnaces are the go-to technology for high temperature processing of powdered materials. They inherently offer significant advantages of throughput and energy efficiency over other forms of continuous, high temperature equipment. Some materials are well served by simple tube designs. In other cases, reaction conditions or stringent time-attemperature requirements may necessitate more advanced designs. In this discussion we will review several indirect-fired rotary furnace design improvements that are targeted to maximize the utility of the process while meeting the critical needs of more difficult processes.
Read the full white paper, "High Temperature Powder Processing: Advancements in Rotary Furnace Designs" here.
About Harper:
Our tagline, "Spark the Future", represents Harper's passion for helping turn our customers' spark of an idea into reality. We do this through exceptional partnerships and a forward-thinking philosophy to deliver the most innovative thermal processing system possible. Our logo, tagline and accompanying imagery help to visually support our unique value proposition.