Code Inspection: ASME B&PV - Non-Nuclear
Service Detail from Hartford Steam Boiler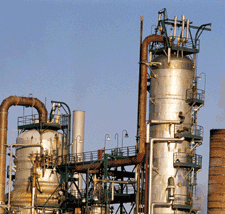 HSB Global Standards offers a wide range of inspection services for owners and fabricators of boilers, pressure vessels, process and power plants. We are the world's largest Authorized Inspection Agency accredited by the American Society of Mechanical Engineers (ASME).
HSB Global Standards is widely recognized as an industry leader and pacesetter for ASME Authorized Inspection Agencies. We help clients around the world anticipate the impact of ASME and National Board Inspection Code requirements on their operations. Our experienced inspection professionals help you identify and eliminate flaws and defects that increase your liability and operating costs while helping you maintain the highest levels of pressure equipment integrity. We also provide the most extensive inspection coverage in the United States and many other countries around the world.
Applications
ASME Code Symbol-Stamped vessels are used in industries such as Petrochemical, Refinery, Power Generation, Textile, Marine, Transportation, Agricultural, Food Processing, Pharmaceutical, Cryogenic and many others utilizing boilers or pressure vessels.
Client Benefits
The most extensive inspection coverage in our industry. That means you can expect prompt support and consistent service virtually anywhere your business opportunities take you!
Access to our full-time Codes and Standards staff - internationally renowned and respected as some of the most knowledgeable professionals in the business. We provide our clients with insights and timely information that help you anticipate code impacts on your business and avoid costly rework or redesign.
Online access to our fully searchable annotated Code Interpretations database.
HSB Global Standards' web-based summary of international pressure equipment codes and standards takes the guesswork out of meeting other national code requirements.
Updates on the latest developments of the European Pressure Equipment Directive (PED), complete with comparisons to ASME and other code requirements already familiar to you.
Electronic versions of our Quick Reference Guides help you find pertinent ASME Code information quickly and easily.
Code Services' standard contracts require no administration or contract preparation fee. Unlike some agencies, we have no annual retainer or minimum usage charge. In general, our rates are "pay as you go" and are based on hourly, half-day, or full-day portal-to-portal code support. We offer reasonable contractual terms to meet our client's needs.