Precision Needle Rollers
Featured Product from Hartford Technologies, Inc.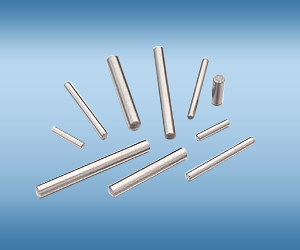 Needle Rollers
Whether you need 100,000 pieces or 100 million, Hartford Technologies' Precision Needle Rollers can be made to your most exacting requirements. Needle Rollers are used in bearing applications for automotive, industrial, agricultural, and aerospace applications. Needle Rollers are also used as internal bearings in cam followers.
Size Ranges
Diameter: .031″ to 1.000″ (.787mm to 25.4mm)
Length: .125″ to 3.000″ (3.17mm to 76.2mm)
Standard Materials
Chrome steel
Carbon steel
Stainless steel
Applications for Needle Rollers
Caged roller bearings
Thrust bearings
Cam followers
Parts Cleanliness
Clean and ultra-clean parts (Learn more about the ultra-clean requirements.)
Custom Precision Rollers
Hartford Technologies is a leading manufacturer specializing in precision rollers.
Rollers are mechanical components known for their cylindrical shape, and we are experts in producing top-notch precision rollers. Leveraging advanced materials knowledge, design capabilities, and stringent quality processes, our team manufactures rollers that excel in high-temperature, high-speed, and high-load conditions, as well as less demanding environments.
Our precision rollers are highly versatile and can be tailored for specific applications, such as CV joints, clutches, starters, or any other specialized needs. With options to choose from various materials like steel, stainless steel, and more, you can count on us for outstanding precision rollers that meet your exact requirements.
Follow us on :
Hartford Technologies
Leading precision ball, pin and custom bearing manufacturer. Specialized in rolling element and assembly solutions.
For more than 8 decades, Hartford has provided cost-effective solutions for every ball bearing rolling element requirement.
We manufacture the following products:
- Custom Bearings, Bearing Components and Bearing Assemblies
- Precision Balls
- Bearing Parts
- Precision Pins, Shafts, and Rollers
We are unique in ways that make Hartford the ideal supplier for mission-critical components.
For greatest logistics advantage, we manufacture on two continents. Our manufacturing is configured for highest repeatability and fastest delivery.
Additionally, US and offshore manufacturing is also identical in that it is supported by:
- Exceptional prototype development
- An expert 3D modeling team
- US technical support that is the most experienced in the world with rolling element components and assemblies
- US-based inventory management
- US-based quality control systems
Furthermore, all Hartford products pass rigorous quality processes, including APQP, PFMEA, PPAP, and SPC. Hartford Technologies is ISO 9001 and ISO/TS 16949 certified. We are an approved automotive Tier I/II supplier. Also, as a woman-owned company, Hartford Technologies is certified by the Women's Business Enterprise National Council.