D-4430 Pressure Generating Unit
Product Announcement from Harwood Engineering Company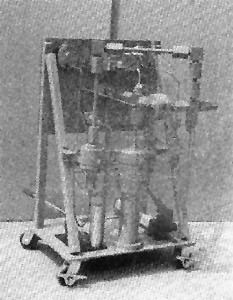 The Type D-4430 pressure generating unit is the current version of 200,000 psi equipment first supplied in 1948. The output pressure is generated by a Harwood laboratory intensifier driven by a commercially available hand pump.
Size and Weight
Overall dimensions: 46" high × 30" wide × 32" deep
Weight: 600 lbs.
Requirements
Power source: 110V, 60Hz, single-phase, ~1A
Charging fluid pressure: 10,000 psi
Hand pump: Water-based fluid capable
Notes
The intensifier will require a drive pressure of about 14,000 psi to make 200,000 psi. At this pressure, most fluids have such an increase in viscosity that they will not flow. Water, in fact, will form ice at about 130,000 psi at room temperature. A mixture of 50% water and 50% ethylene glycol-based automotive antifreeze has proven a good fluid for this service, as has a mixture of 80% Coleman Fluid and 20% monoplex DOS, on those occasions when a polar fluid is an inappropriate choice.
---