H-Drive Gas Booster
Featured Product from Haskel International LLC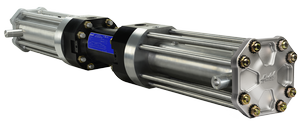 The H-Drive Gas Booster is designed specifically for high-pressure gas boosting applications with a wide range of gases, from Hydrogen and CNG refueling to tube trailer supply and Helium blanketing.
More economical than a diaphragm compressor, H-Drive offers leak free, non-contaminating compression with hydrogen compatible materials that resist hydrogen embrittlement, meeting Hydrogen fueling station requirements with minimum number of boosters.
Its robust design makes it suitable for continuous heavy-duty applications, and ease of maintenance means it requires no lubrication and minimal cleaning.
H-Drive is available as a turnkey booster compressor station or as booster modules for seamless incorporation into OEM packages. Service and support available through a global service network. ATEX certified as standard.