Mini Gas Booster for Dive Applications
Featured Product from Haskel International LLC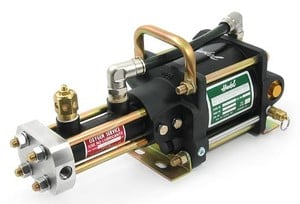 The Mini Sport Booster from Haskel is designed for diving applications that demand performance, reliability and safety at an affordable price. The oil-free 4-inch drive Mini Sport Booster is a compressed air driven, air cooled, non-lubricated, reciprocating piston, single stage type. The approximate size ratio of the air drive piston to the gas piston is 25:1. The Mini Sport Booster is factory cleaned by Haskel for Oxygen Service.
The very small size (LxWxH = 14 x 6 x 6.5 inches) and 12 pound weight allow it to be conveniently transported. The Mini Sport Booster can fill cylinders up to 3300 psi and it can boost with source gas pressures as low as 100 psi. Popular with technical and rebreather divers, the Mini Sport Booster allows deco bottles, oxygen and diluent rebreather cylinders to be filled when low pressure compressed air is the only source of power available. Operating with a drive air pressure of just 140 psi means it can be supplied by the LP port of a typical SCUBA first stage regulator and tank.
For maximum flexibility, the Haskel Mini Sport Booster is offered in a "naked" configuration, less fittings and hose assemblies. For our model number MSB-9000, the inlet and outlet gas ports accept standard SAE 9/16"-18 fittings and the drive gas inlet accepts a standard NPT 1/2"-14 fitting. Dive Gear Express offers optional fitting and hose kits.
The Mini Sport Booster is FAST
Visit our website to learn more or email your inquiries.