Enclosed Valve Bag Packing Systems INTEGRA
Featured Product from Haver & Boecker USA, Inc.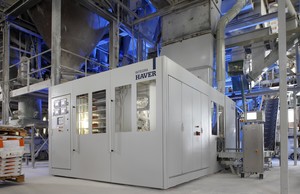 HAVER INTEGRA are stationary, enclosed bag packing machines for filling fine and coarse bulk materials into 25 to 50-kg valve bags made of paper, polyethylene or polypropylene. Also mixed and granulated products can be filled with our HAVER INTEGRA.
Your speed requirements determine whether the HAVER INTEGRA packing machine is equipped with two, three or four spouts. The HAVER INTEGRA is available in manual, semi-automatic or fully automatic versions. That means a manual or automatic bag application is possible. To boost productivity, it is also possible to add a HAVER automatic bag applicator.
HAVER has optimum solutions for every loose, bulk product property, every commercially available valve-bag type and dimensions.
Successful and complete system solutions are based on HAVER & BOECKER's analytical approach and its broad-based expertise and experience from: Continuous research and development, Its own in-company laboratories, Its own, self-developed test methods, detailed sampling for determining physical product properties, exact air permeability tests on empty bags using precision instruments and economically sound concepts.