Packing and Filling Machines for the Food Industry
Featured Product from Haver & Boecker USA, Inc.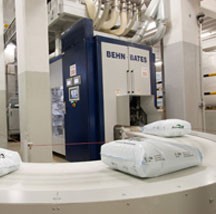 We are here to help. Our solutions include storage silos, material handling components, packing powders into different bag types, filling liquids into varies containers and making the transportation of your products seamless.
We offer flexible solutions that are responsive, safe, clean and gentle on your products.
SOLUTIONS FOR
aromatic substances
greases
beverages
oils
cocoa powder
starch & derivatives
sugar, dextrose, maltodextrin & sorbitol
flours, baking mixes & premixes
rice & corn