Pedestal Paver Snow Melting System
Featured Product from Heatizon Systems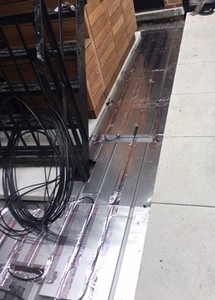 Many roofs and decks use a pedestal and paver system now have a solution to quickly remove ice and snow. Heatizon's system uses a custom insulated pan system in conjunction with Hott-Wire to heat the pavers and quickly remove ice and snow. The pans are designed in such a way that the profile of the paver system is not elevated noticeably. Heat is efficiently transferred to the paver via the insulated pan and then melted water can flow through the paver gaps and quickly away through drainage system. The pedestal paver snow melting heat system can allow use of a deck or rooftop area during winter when it wasn't able to be used before.
Advantages:
Easy installation
Efficient heat transfer
large area coverage
Superior Snow Accumulation Control
Highest longevity
The Pedestal Paver system is for exclusive use in coordination with Heatizon's Hott-Wire, a line-voltage heating cable. Learn more about Hott-Wire heating cable.
Technical Information for Architects and Engineers