Radiant Floor Heating
Featured Product from Heatizon Systems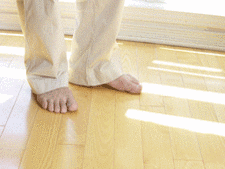 When heated floors are the objective, Heatizon Systems radiant floor heating systems can be used to make those surfaces warm and inviting. Small and large areas can be heated very easily with ZMesh, Tuff Cable, or Cozy Heat. For smaller areas like bathrooms, we have designed our low voltage Floorizwarm radiant floor heating system and line voltage Heatwave radiant floor heating mats. Additionally, areas that are not contiguous can be heated with our low voltage in floor heating systems with one standard Control Unit simply by jumpering between areas, thus decreasing component costs and still being able to enjoy elegant electric radiant floor heat.

Installed directly under and surface, Heatizon Systems in floor heating systems are easy to install and offer years of maintenance free comfort.
Electric Radiant Floor Heating Products Built for Safety
Step out of your shower with peace of mind, knowing your we bathroom surface is safely heated with one of our self-monitoring low-voltage radiant in floor heating technologies. In addition, only Heatizon System's products have added computer technology to safely monitor your floor heating system day and night.
Electric radiant floor heating is a popular option for quiet and 100% efficient warmth. Transform cold floor materials into comfortable living surfaces! These products are effectively and easily used for small or large areas and for floor comfort or entire home warming.
Worry Free Reliability and Longevity
The entire Heatizon Systems electric floor heating product lines are solid state, have no moving parts to wear out, and have nothing that requires routine maintenance. In addition, our quality floor heating elements are the longest lasting available and are backed by our industry leading warranties. Completely eliminate winter heating maintenance with the most reliable radiant floor heating source available for whatever floor covering you may have.
Radiant Floor Heating for Efficiency
Utilizing 100% of the energy it draws to create heat, Heatizon floor heat systems are incredibly energy efficient. Our systems also radiate heat directly towards room occupants allowing them to be comfortable at lower thermostat settings. And because radiant heat energy is stored in your floor and other objects, warm temperatures are easily maintained, resulting in low energy consumption.