Rising Falling Film Evaporator
Featured Product from Hebeler Process Solutions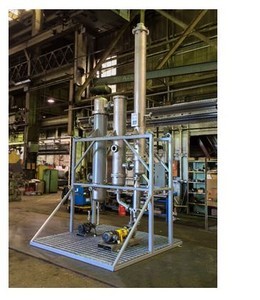 The design features of the BUFLOVAK Rising Falling Evaporator or Concentrator (RFC) produce high tube velocities and assure uniform product distribution and high coefficients of heat transfer.
The rising falling film evaporator (RFC), or recirculating version, RRFC, works on uniform metered flow entering the bottom of the steamchest and rises through the first pass with
rapidly increasing velocity. After leaving the first pass the flow of the vapor liquid mixture is reversed and directed downward through the second pass at extremely high velocity. The mixture then enters the separator where the vapor and liquid are separated.
When not designed as a circulation unit, the rising falling film evaporator provides once through evaporation of heat-sensitive materials, requiring minimum retention time. It is particularly adaptable to multiple effect systems but provides a lesser turn-down capability than the RRFC configuration.
Rising Falling Film Evaporator
Characteristics
High tube velocity minimizes fouling.
Able to achieve high concentrations at low temperatures.
Risk of entrainment is greatly reduced since the major portion of the liquid passes directly
out of steamchest rather than being re-entrained with vapor from the separator.
System may be turned down without loss of efficiency or effectiveness.
Holding time is a matter of seconds (RFC).
Suitable for evaporation of a wide range of
liquid concentrations.
Low headroom requirement.
Rising Falling Film Evaporator
Product Applications
Heat sensitive liquids requiring
minimum process time.
Pure or non-crystal forming liquids.
Liquids having low to medium viscosities.
Foamy liquids.
Liquids containing fine suspended
solids.
Readily handles thixotropic
materials.
HPS designs and manufactures Buflovak and Patterson Kelley custom processing equipment designed for your specific and unique application. Our equipment is designed for any industry, including Food, Pharmaceutical, Environmental and Hemp.
Product Lines:
Reconditioning & Service
Buflovak / P-K
At Buflovak / P-K Process, we specialize in innovative, technology–driven solutions for the food, chemical, pharmaceutical, waste treatment, metals and glass industries. We are one of only a few worldwide offering product research and testing, the design and engineering of process equipment and systems, and manufacturing of complex one-of-a-kind and first-of-a-kind equipment and systems all at a single location. Buflovak LLC consists of specialized operating groups: Buflovak Rotating and Vacuum Thermal Process Equipment Group; Buflovak Separation Technology.