BradyPrinter M611 Mobile Label Printer
Featured Product from Heilind Electronics, Inc.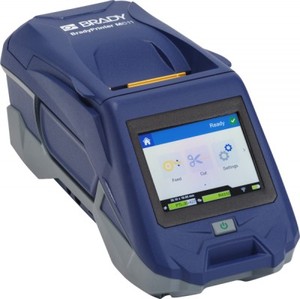 Heilind Electronics, a leading global distributor of electronic components and authorized distributor for Brady, has added the BradyPrinter M611 mobile label printer to its line of Brady identification products.
With more and more identification tasks being completed outside of the traditional office setting, the need for mobile labeling solutions becomes critical. Brady's new M611 mobile label printer fulfills this need by offering a way to print labels remotely. The new printer utilizes the Brady Workstation Express Labels mobile app, featuring a touch-screen interface for fast and easy label creation. It also includes smart-cell technology that communicates with the software, labels and ribbon materials – ultimately streamlining the label setup and creation processes, resulting in time and labor savings.
The M611's convenience and ease of use are complemented by its durability. The printer operates on a lithium-ion battery that remains powered throughout the day. Additionally, it features a rugged design that withstands even the harshest environments.
Each unit presents a diverse set of connection options, including Bluetooth, Wi-Fi and USB 2.0. The units also feature an auto cutter and a 300 dpi print head for crisp output. This versatile printer is ideal for mid-volume industrial printing in sectors like contract manufacturing and logistics. Specific applications include the identification of products, distribution facilities, electronic components and wires.
Visit Heilind's website for more information about BradyPrinter M611 mobile label printers.