Brady's BSP™45 Automated Sleeve Applicator
Featured Product from Heilind Electronics, Inc.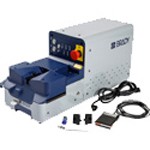 Brady introduces the BSP™45 Automated Sleeve Applicator, which is an easy-to-use, faster and more cost-effective alternative to manual sleeve application. The applicator increases wire sleeve application speed by up to 6-10 seconds by automatically removing sleeves from the liner, opening and applying them to the wires. By eliminating the tedious task of applying hundreds of wire sleeves, it gives workers more time to focus on other important tasks.