JAE USB Type-C Waterproof Connectors
Featured Product from Heilind Electronics, Inc.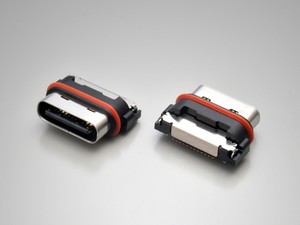 Heilind Electronics, a leading global distributor of electronic components and the largest authorized distributor for JAE Electronics in North America, has expanded its extensive inventory of connector products with the manufacturer's waterproof DX07 Series USB Type-C receptacles.
With the increasing popularity of smartphones, portable gaming systems and other contemporary electronic devices, the need for next-generation connectors becomes critical. JAE's recently launched DX07 Series USB Type-C receptacles not only fulfill this need, but go a step further by delivering waterproof protection.
Many waterproof connectors offering a rating of IPX7 or above utilize potting, where small gaps can form during the reflow process. The DX07 series is designed to eliminate this risk through the use of a unique insert molding technique. As a result, IPX8-level protection is achieved throughout the manufacturing process.
The waterproof DX07 receptacles support up to 5 Gbps SuperSpeed communication and a 5 A power supply. In addition, they feature a reversible design, highly durable lock mechanism and superior EMI/EMC shielding. The receptacles are available in both long and short shell configurations.
Because of their compact size and expansive capabilities, DX07 Series receptacles are used in a broad range of electronic devices. Applications include smartphones, tablets, PCs, high-definition camcorders, digital still cameras, speakers, headphones and VR/AR (virtual reality/augmented reality).
Visit Heilind's website for more information about JAE's DX07 Series USB Type-C waterproof connectors.