Standex-Meder High Voltage Reed Relay Series
Product Announcement from Heilind Electronics, Inc.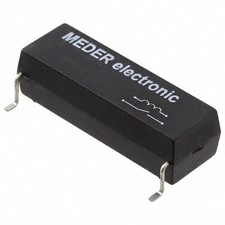 The KT Series Reed Relays integrate high technology packed into a small footprint. Available in either surface mount or through hole mounting, the KT relay measures just L30 x W8.6 x H10.6mm. Additionally, the KT Relay series offer excellent isolation resistance at >= 1013? and an isolation voltage between the coil and contact of >= 7kVDC. Contact Heilind!
Both its high isolation characteristics and very small size make these KT relays highly suitable for green applications such as solar photovoltaic technology. They are particularly helpful in measuring isolation resistance across several components within a solar system prior to grid connection preventing injury or further current leakages.
The LI series reed relay is an ultra miniature high voltage relay series design in a PCB through hole package, capable of switching voltage up to 1kVDC and breakdown voltage up to 5kVDC.
It is available in three coil voltages of 5V, 12V, and 24V, and all three versions are available in either surface or through-hole mounting. They are packaged in a hermetically sealed thermoset molded encapsulation, with switching voltages of 1000V and coil resistances of 150 Ohms.
Additional features include its innovative design with no internal solder joints and ability to meet minimum creepage distance requirements as outlined by the IEC standard.
Features:
High Isolation characteristic
Small dimensions
High isolation voltage
PCB through hole mounting
Hermetically sealed thermoset
Molded encapsulation
Dynamically tested contacts
Low Leakage Currents
Tested in accordance with AEC-Q200
UL listed
Applications:
Automotive, Electric & Hybrid Vehicles

Battery Management Systems
Battery Conditioning
High Insulation Measurement

Renewable Energy - Wind & PV Systems

Solar Inverters
Power Distribution

Medical Equipment

Surgical Generators
Automated External Defibrillators
Isolation Functions

Test & Measurement

Integrated Circuit Testers
Automated & Precision Test Equipment
Multiplexers, High Density Matrices

Intrinsic Safety

Electronics, Mining, Oil & Gas Production
Geothermal & Seismic Instrumentation
Markets:
E-Cars
Solar
Test & Measurement
Medical
For more information or to check inventory at Heilind, click here
---