Stewart Modular Jacks
Featured Product from Heilind Electronics, Inc.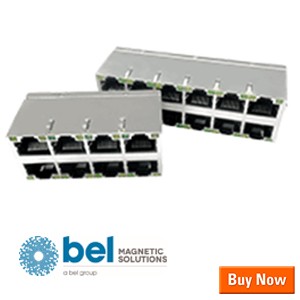 The Stewart Connector portfolio of products include one of the broadest ranges of ethernet connectivity. Our interconnect products includes passive jacks, plugs and cable assemblies that provide connectivity in networking equipment. Modular plugs and cable assemblies are used within the structured cabling system, known as premise wiring. All connector products are designed to meet current performance standards including Category 6 regulations for Gigabit Ethernet & 10Gigabit Ethernet applications
Stewart Connector offers CAT 3 and CAT5e StackJacks™. Our space-saving StackJack modular jacks offer the most features for the maximum reliability and performance you need for today's integrated data systems from the central office all the way through to your mobile applications. Our enhanced shielding provides optimum protection against EMI, and our unique panel tabs provide a high normal force for superior shielding effectiveness. The longer springs allow repeated insertions/withdrawals from a panel, and prevent "fish hooking" on the panel during insertion. All of the Bel Stewart StackJack modular jacks can be equipped with EPP-918A contact dressing to increase the durability of the contacts to withstand heavy insertions and extractions of the mating plugs and provide increased protection in harsh environments.
Stewart Connector/Bel SealJack™ Harsh Environment RJ45 Jacks are vertical jack connectors providing reliable connectivity in demanding environments. SealJack connectors allow for sealed protection for outside elements for IP67 applications per IEC 60529 specifications. This unique sealed design is the lightest and most compact on the market, which can be used to transmit up to 10G Base-T Ethernet speeds.
This light, compact connector series is available in a single-port vertical and four-port vertical harmonica jack configuration. The SealJack connector housing is comprised of a Zinc die cast alloy with Nickel plating and has a compact design that minimizes weight, volume and area over competitive products. The RJ45 Jacks are available with optional EPP 918-A protective coating and include a gasket that allows for front panel mounting or rear panel mounting.
Features & Benefits:
Available in a single-port vertical and four-port vertical harmonica jack configuration
Allows for sealed protection from outside elements for IP67 applications per IEC 60529 specifications
Fully gold-plated contacts for increased reliability
The connector housing is comprised of a zinc die cast alloy with nickel plating
A compact design that minimizes weight, volume, and area over competitive products
Port density volume of 2.3 ports per in3
Available with optional EPP 918-A protective coating
Minimum of 750 mating cycles
Includes a gasket that allows for front panel mounting or rear panel mounting
Multiple LED configurations available
POE+ compatible and RoHS compliant
Applications:
Rugged computing equipment
Industrial environments
Military communication
Marine equipment
Medical devices
Test equipment
Connectivity for non-office environments
Renewable energy industry
For more information or to check inventory at Heilind, click here