Stewart StackJacks™ Modular Jacks
Featured Product from Heilind Electronics, Inc.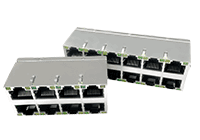 Stewart Connector offers CAT 3 and CAT5e StackJacks™. Our space-savingStackJack modular jacks offer the most features for the maximum reliability and performance you need for today's integrated data systems from the central office all the way through to yourmobile applications. Our enhanced shielding provides optimum protection against EMI, and our unique panel tabs provide a high normal force for superior shielding effectiveness. The longer springs allow repeated insertions/withdrawals from a panel, and prevent "fish hooking" on the panel during insertion. All of the Bel Stewart StackJack modular jacks can be equipped with EPP-918A contact dressing to increase the durability of the contacts to withstand heavy insertions and extractions of the mating plugs and provide increased protection in harsh environments.