TE Connectivity's INSTALITE Molded Boots
Featured Product from Heilind Electronics, Inc.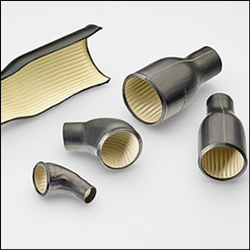 Interstate Connecting Components, (ICC), a division of Heilind Mil-Aero and a leading distributor of military-aerospace connectors and accessories worldwide, has added INSTALITE Rayaten-shielded molded boots from TE Connectivity (TE) -- a global leader in connectivity and sensors.
Like other Rayaten heat-shrinkable molded parts under TE's Raychem line, the new INSTALITE boots are designed to resist abrasion as well as common military fuels, oils and gases. In addition, they feature enhanced EMI performance with a lightweight screening capability of 70 dB of attenuation (up to 1 Ghz). This level can be customized for individual requirements.
One of the most notable features of the boots is their simplified installation. Because the boots are manufactured with new flexible EMI shielding materials, they are less likely to crack and recover quickly from the heat shrinking process. The materials also allow for an expanded range of configurations, including several T-shape options and multi-way harness breakouts.
INSTALITE boots with Rayaten shielding fit most circular connectors and backshells, with options available for D-subminiature backshells. This versatile product can be used in a wide range of harsh environment applications, including military ground vehicles, missiles and missile launchers, naval shipboards, flight control instrumentation, radar systems and C4ISR systems.
Visit ICC's website for more information about TE Connectivity's INSTALITE Molded Boots with Rayaten Shielding.